Barn Door Wall Mounted Sliding Hardware
Ideally suited where cost is prohibitive or structurally impossible to install a pocket door. Contemporary Wall Mounted Barn Door Hardware saves space and creates a contemporary style statement and it's easy to Install!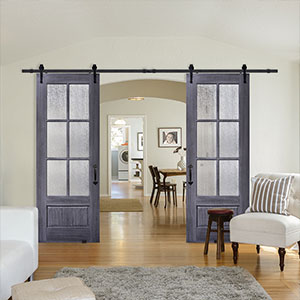 Multi-Pass Sliding Door Hardware
Made to make multiple doors slide past each other in a single opening. There are numerous configurations for multi-pass sliding door hardware from two doors per track to a door per track as seen here.